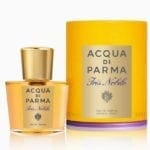 Iris Nobile Eau De Parfum Natural Spray
10,735,000 LBP – 15,485,000 LBP
Description
Additional information
Description
About the fragrance:
The fresh citrus top notes of bergamot, mandarin and star anise, prelude a rich iris and ylang ylang heart. The vibrant and subtly sensual base, with warm notes of vanilla, patchouli and oak moss, gives warmth and intensity to a unique and unforgettable eau de parfum.
Inspiration:
Iris Nobile, the most iconic of Acqua di Parma's female fragrances, a precious ingredient from the great Italian perfumery tradition in a new re-interpretation.For a sophisticated woman with classic taste who enjoys standing out by choosing only the best. The iris is the most regal of flowers. Its purple has enormous personality: deep, female, intense. It is the emblem of Florence, cradle of the Italian renaissance. Its velvety perfume fascinated Florentine noblewomen, such as Caterina de Medici, who used it to create her own personal fragrance, dubbed 'Acqua della Regina'. Its aristocratic elegance graced Italy's noble gardens and villas, the ideal environment for majestic and characterful femininity.